After Co-founding NW Patent Funding in 2005 as one of the pioneer patent litigation funding firms in North America, Michael Cannata observed that monetizing patents through litigation was not ideal for all clients whose patents were infringed. Their only other monetization alternative was to sell their patents but there were no intermediaries to help with this and no patent brokerage market existed. Seeing an opportunity Patent Monetization Inc. was founded by Michael in March 2010 as one of the pioneer patent brokerage firms in North America. In October 2010 Paul Cannata joined the firm after a successful career with a boutique M&A firm brokering the sale of companies. Paul applied the skills learned in selling companies to developing an approach to selling patents. At this time PMI also began to take on competitive patent landscaping consulting assignments and developed a technical understanding of the nuances of claim language, infringement and validity analysis. Today PMI has evolved to providing all patent monetization services whether it be litigation, licensing or sale. Being pioneers in all forms of patent monetization has allowed us to develop an extensive network of contacts and associates that positions PMI as your trusted, experienced partner for successful patent monetization outcomes.
Paul Cannata
Partner and Managing Director
Paul Cannata is Partner and Managing Director of Patent Monetization Inc. (PMI).
Paul Cannata has been involved in the monetization of patents since 2009 and is responsible for overall operations of PMI.
Mr Cannata manages the entire patent monetization process, from client acquisition and due diligence analysis through the development of comprehensive monetization strategies and ultimately to successful outcomes. Mr Cannata helped clients navigate the complexities involved in the monetization of IP and patent assets, including related to designing and implementing patent licensing/ litigation programs, IP and patent valuation to enhance M&A programs, licensing and litigation support and the development of effective patent divestiture and acquisition programs.
Mr Cannata is highly experienced in patent transactions and negotiating complex patent purchase and patent licensing agreements both for and with large Fortune 500 companies and small inventor-owned technology companies. Mr Cannata has helped development and implement a variety of patent monetization strategies, including filing a Preliminary Injunction for one of our clients, which resulted in a fast track jury hearing and a nine-figure court ordered award.
Mr Cannata has been recognized by Intellectual Asset Management as a World Leading IP Strategist since 2014. Before joining PMI, he was Director of Mergers and Acquisitions and patent transactions at a boutique M&A firm.
PMI
Michael J. Cannata
Partner and co-founder
Michael J Cannata is the founder of Patent Monetization Inc (PMI).
Michael has been involved in the monetization of patents since 2002 and is a named inventor on five patents. In 2005 he advised Northwater Capital Management on the establishment of an IP fund (NW Patent Funding Corporation) that was a pioneer in patent litigation financing. Through this fund, Michael managed patent litigation investments made by the fund and was responsible for the fund's investment in the i4i v Microsoft patent litigation. Michael managed this high-profile litigation, resulting in a $290 million judgment for i4i, upheld by the US Court of Appeals for the Federal Circuit and concluded by a US Supreme Court decision which saw i4i successfully defend – for the benefit of all patent owners – the clear and convincing evidence standard required to invalidate a patent.
Michael is an entrepreneur with a proven track record as CEO of multiple start-up and early-stage technology companies. As CEO of a financial services software company, he created value for shareholders through an M&A transaction with OpenText Corporation, where a strategic patent asset was the key driver for the acquisition. After the acquisition, he assisted in developing an IP program and patent licensing program for OpenText. As president of Cybermation Inc, a systems management software company, his executive leadership skills were recognized as the company was consistently named one of the 50 best-managed private companies in Canada.
Michael has extensive experience in strategically designing and implementing patent licensing/litigation programs that create monetization value for patent owners.
IAM has recognised Mr Cannata as a world-leading IP strategist since the inception of the program in 2009.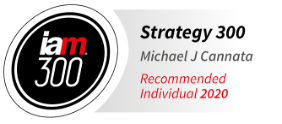 PMI
IAM 300 World Leading IP Strategists
Every year IAM publishes the IAM Strategy 300: The World's Leading IP Strategists and names the world's top IP value creators. Michael Cannata has been named to this list annually since the inception of the program in 2009 and Paul Cannata has been named annually since 2014. The selection process is thorough and outlined in this quote from the IAM press release announcing the 2020 publication:
"The IAM research team spoke to a wide range of senior corporate IP managers in North America, Europe and Asia, as well as third-party IP service providers, in order to identify these IP leaders: men and women whose business is the creation, development and deployment of strategies that enable IP owners to gain maximum value from their portfolios. Only those individuals nominated multiple times by different parties as outstanding IP strategists are listed in the IAM Strategy 300."
More information on the program can be found here: https://www.iam-media.com/directories/strategy300/info/methodology